Our Address:
4646 Oakton St (rear), Skokie, IL 6007
** limited office hours - please call first -- as we say "You can't bring your garage door in for service" **
TWO BLOCKS EAST OF SKOKIE BLVD (4800W aka US 41) ON OAKTON ST (8000 N)
ON THE CHICAGO NUMBERING SYSTEM WE ARE 4600 W / 8000 N.
OUR CUSTOMER ENTRANCE IS IN THE REAR ONLY!
In an effort to provide the most timely and cost effective service to all of our customers, this office has limited hours. Please call us for current hours or to schedule an appointment (day, evening or weekend).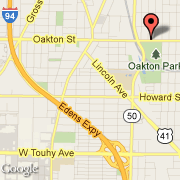 Google Maps - click here